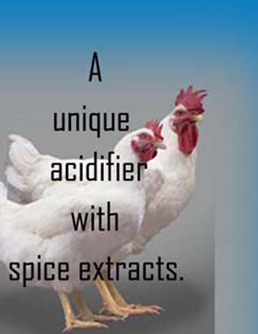 Organic acids-spice extracts gut regulator feed supplement for Animals
 Description:
NOVACID is a non antibiotic gut regulator for Poultry.
The main action of the acids present in NOVACID is to regulate pH in the gut to prevent pothogen proliferation. These acids also destroy certain pathogens by fusion & lysis.

The spice extracts, on the other hand, stimulate pancreatic liver and gastric secretion, regulate gut microflora, destroy pathogens, protect gut epithelium and enhances microvilli structure.

The Glucamannan Oligosaccharides preset in NOVACID stimulate immunity, adsorb mycotoxins and prevent pathogenic proliferation.

NOVACID with its unique properties should be considered as a product superior to organic acids formulations.

Benefits :
Organic acids
    Destroys pathogens by both fusion and lysis

    Regulates the gut pH & prevents pathogenic proliferation

    Improves the digestibility of certain feed components

    Enhances activity of certain enzymes
Glucamannan oligosaccharides
    Adsorbs mycotoxins

    Prevents colonization of pathogens

    Enhances immunity
Spice extracts
    Destroys pathogens

    Regulates gut microflora

    Stimulates secretion of pancreatic and liver juices

    Enhances gastric secretions

    Stimulates Digestion

    Prevents the epithelium from gut pathogens

    Enhances microvilli structure in the intestine
Composition:
Propionic acid, Fumeric acid, Lactic acid, Glucamannan oligosaccharides & Spice extracts.
Presentation :
10kg & 25kg Poly laminated paper bags.